Welcome to the PP Systems Botany 2021 Virtual Meeting Page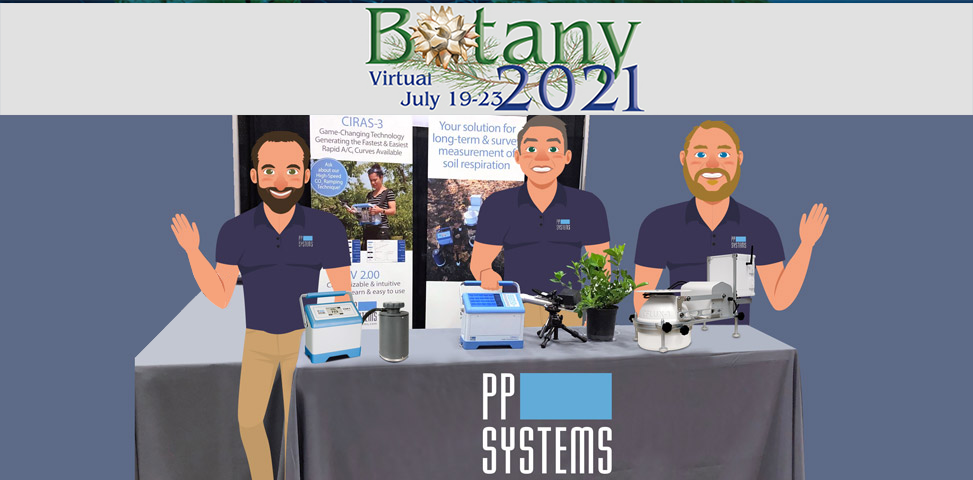 PP Systems has been designing and manufacturing innovative instrumentation to enhance the research and educational experience of plant and soil scientists since 1984.
Please choose your area of interest below to learn how PP Systems is redefining the boundaries of life science research.
ZOOM HOURS: During Exhibitor Hours: July 19 – 23 | 9:00 – 10:00 AM & 12:00 – 1:00 PM EDT
Meeting ID: 551 261 8269
Passcode: 422275
Dial by your location
Find your local number
Photosynthesis & Chlorophyll Fluorescence
CIRAS-3
Enhancing the high-level field research experience
CIRAS-3 Portable Photosynthesis &
Chlorophyll Fluorescence System
APPLICATIONS
*Chlorophyll fluorescence & photosynthesis can be measured simultaneously.
The demands of high-level field research have changed. Researchers have a lot of data to collect and analyze and not a lot of time. True portability, speed, and accuracy are key.
The CIRAS-3 is the fastest and most accurate mobile system for simultaneous leaf gas exchange & chlorophyll fluorescence measurement.
The CIRAS-3's small system volume is optimized for high-level field performance.
You have full control of CO2, H2O, temperature & light
Perform rapid A/Ci curves in minutes with our innovative high-speed CO2 ramping technique
TARGAS-1
The affordable solution for teaching & basic research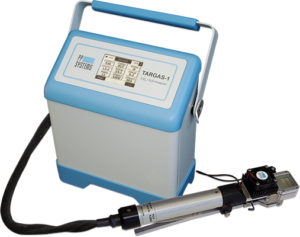 The TARGAS-1 is cost-effective and very easy to use. It's robust & lightweight (2.1kg) as well as extremely reliable under harsh environmental conditions—ideal for field measurements.
Two non-dispersive infrared gas analyzers for CO2 & H2O ensuring accurate measurement & control of both CO2 & H2O.
Gas analyzers employ a non-dispersive, infrared measurement technique & microprocessor-based signal processing to achieve excellent stability & specificity to CO2 & H2O.
Our innovative "Auto-Zero" technology ensures fast warm-up, long-term stability, accuracy & analyzer calibration.
Rechargeable Li-ion battery for up to 10 hours of field operation.
USB flash drive for easy data transfer to your PC.
Innovative, large, touch display features simple, intuitive system navigation
Excellent viewing under bright sunlight.
Handy PEA+

Ideal for rapid, large-scale screening of samples in the field or greenhouse!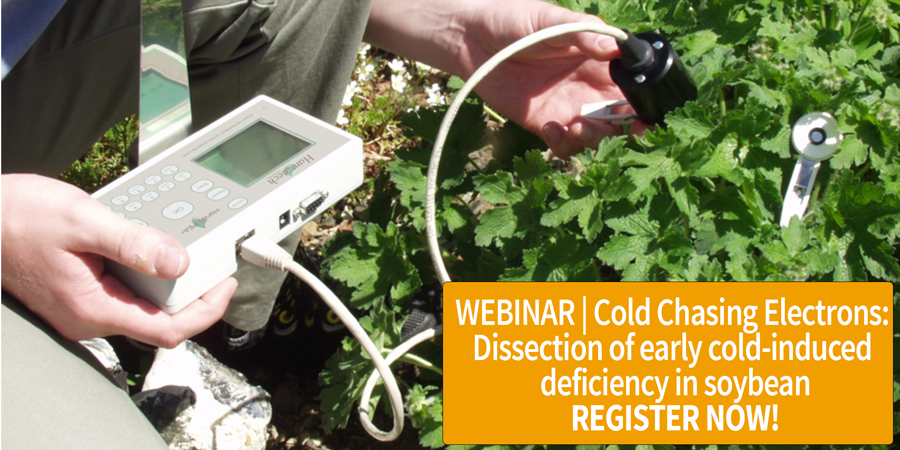 Looking for a highly portable continuous-excitation chlorophyll fluorometer that's easy to use?
The Handy PEA+ is a compact, highly portable chlorophyll fluorescence analyzer ideal for rapid, large-scale sample screening in the field or greenhouse for research and teaching applications.
Compact (170 x 85 x 40mm), lightweight (565gms)
Large-scale screening capacity up to 1000 full trace data files
High time resolution detection for discrimination of fast chlorophyll fluorescence induction kinetics
Saturating high intensity focused LED array for accurate determination of Fmax
Upload user-defined, repeatable protocols for auto field execution
Interchangeable sensor unit cables with lengths of up to 20 m
Powerful Windows® data transfer & analysis software included
Pocket PEA

Ultra-accurate chlorophyll fluorescence measurement in the palm of your hand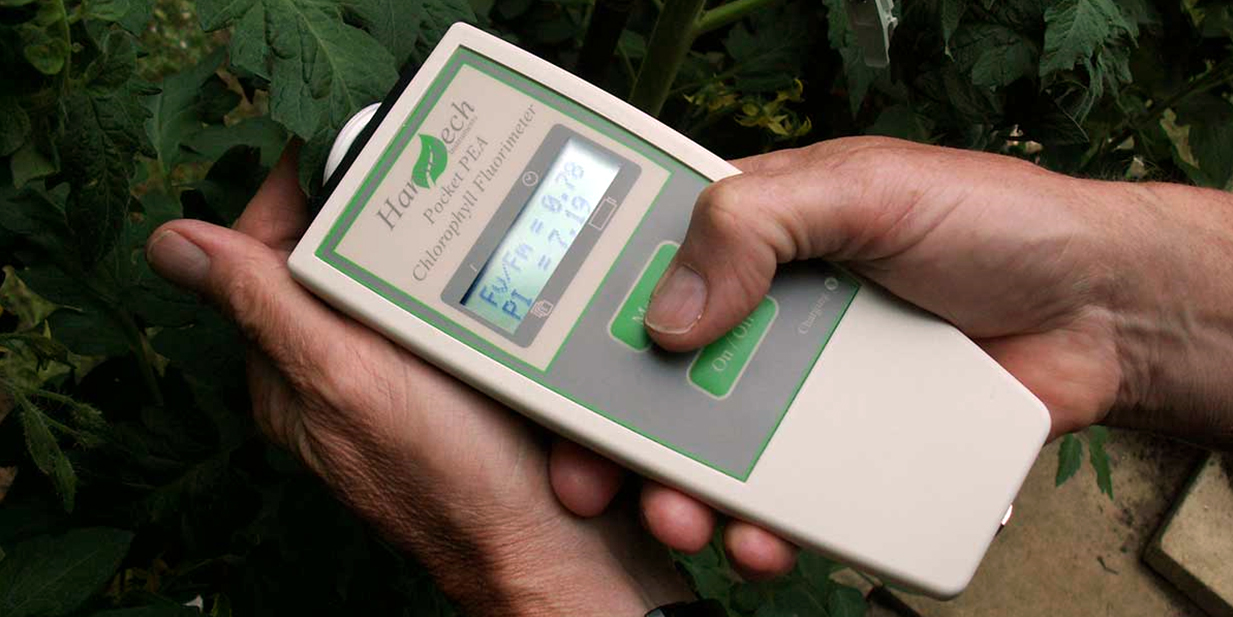 Rapid screening capability with single-button operation. Highly portable & easy to use!
Suitable for teaching, research & a variety of commercial applications, the robust Pocket PEA Chlorophyll Fluorometer's compact hand-held design is reliable & easy to use.
Rapid screening capability with single button operation & storage of up to 200 full data sets
Automatic parameter calculation including Fv/Fm & OJIP analysis
Robust enclosure with sealed, high-intensity optics
100kHz sampling frequency with 16bit resolution
Bluetooth wireless data transfer as standard
Powerful Windows® data transfer & analysis software included
Soil & Net Canopy CO2 Flux
CFLUX-1
No need for multiplexing chambers!
A dedicated, self-contained system for long-term deployment & unattended operation for measurement of soil respiration. Ideal for both spatial & temporal analysis.
Built-in CO2 & H2O infrared gas analyzers (IRGAs). No need for multiplexing chambers!
Large hemispherical articulating chamber (2500 cm3)
Precise control over chamber opening & closing at user-defined intervals
Measure soil moisture & soil temperature along with flux data
Easily monitor remotely from phone or computer—from anywhere!
View sensor data & information via computer or mobile device
Store data directly to a USB Flash Drive or external data logger
EGM-5
Highly portable, accurate & versatile!
The popular EGM-5 Portable CO2 Gas Analyzer is the ideal solution for soil CO2 efflux, net canopy CO2 flux & more! 
Quick setup & intuitive software
Excellent stability & specificity to CO2.
Minimal maintenance
No need for factory recalibration
Fast warm-up
Long-term stability, accuracy, and analyzer calibration
Compact and lightweight (1.5 kg)
Rugged reliability under the harshest environmental conditions
Energy-efficient, rechargeable Li-ion battery: Up to 16 hours of operation
Large, high-contrast display for excellent readability in bright sun
A miniature, long-life air sampling pump comes standard
See how fast & easy measurements are with the EGM-5!
Oxytherm+

Liquid-phase photosynthesis & respiration measurement with solid-state temperature control
Oxytherm+ is supplied in 2 versions; Oxytherm+R (Respiration) and Oxytherm+P (Photosynthesis).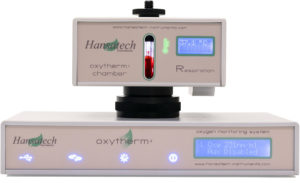 Suited to measurements of cellular respiration and mitochondrial respiration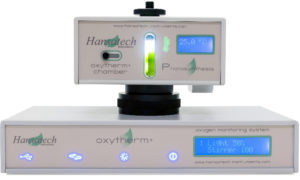 Additional functionality to provide optimum suitability for photosynthesis studies including 2 high-intensity white LED light sources for uniform sample illumination.
Each version is fitted with an advanced electronic oxygen electrode chamber with a specific feature set to suit the intended purpose.
Additional features:
Precision sample and sensor temperature control between 3 – 40°C via an integral Peltier element
Chamber temperature is configured from within the OxyTrace+ Windows software
Actual chamber temperature is indicated on an LCD display mounted on the front panel of the Oxytherm+ electrode chamber
A tricolor LED indicates if the chamber is cooling (blue), heating (red) or at set temperature (green)
Oxytherm+ Photosynthesis version fitted with automated white LED light source up to 4,000 µmol m-2 s-1
APPLICATIONS
Cellular Respiration
Mitochondrial Respiration
Photosynthesis Studies
Oxygraph+

Liquid-phase photosynthesis & respiration measurement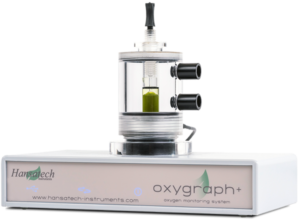 The Oxygraph+ System provides a convenient yet powerful tool for measurements of oxygen evolution or uptake across a broad range of liquid-phase samples from chloroplast extractions to mitochondrial suspensions with oxygen concentrations up to 100%
Additional features:
24-bit resolution allows detection of minute changes in oxygen tension without needing to apply instrument gain
Noise-free traces even when zoomed close in on areas of interest
Real-time graphing of signals from auxiliary inputs and ion-selective electrodes
Simultaneous comprehensive analysis of oxygen activity with signals such as pH, TPP+, calcium, potassium, and hydrogen ions
Up to 8 individual Oxygraph+ control units may be linked to a single PC and operated simultaneously from
OxyTrace+ software providing a powerful, multi-channel system
APPLICATIONS
Measurement of Oxygen Evolution & Uptake
Chloroplast Extractions
Mitochondrial Suspensions
Photosynthesis Measurement
Respiration Measurment