The OMC-140 Multifunctional TFT Wind Display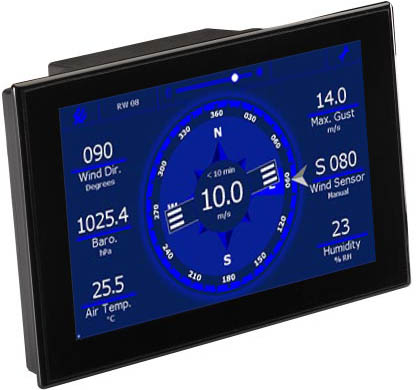 The OMC-140 Multifunctional TFT Display can be used wherever you need to visualize your critical measurement information on a dedicated instrument. When the presentation of wind information (wind speed and direction, gust, and variation, true or relative) or indication of other meteorological parameters (temperature, humidity, barometric pressure, visibility, and cloud base) is required, the OMC-140 is the ideal instrument.
The multifunctional character of the OMC-140 allows the unit to be supplied for additional applications such as GPS and gyro, speed log indication, Echo-sounder display,  etc.
Data Viewing
View your data at a true viewing angle of 170⁰ on an 8.5″ industrial-grade LCD with a long-life, low-power LED backlight.
Multiple Dimming Options
Manual via the slide bar
Automatically by means of a light-sensitive element
Centrally through DDC
8,5" Super wide, 170° viewing angle LCD with long-life low-power LED backlight
Touchscreen display
Power supply between 90 and 250 Vac
24 VDC version available (part no. OMC-140-24)
Two RS422 NMEA inputs (status LED available)
User-selectable meteorological or marine display options available
Alarm handling, high and high-high, audible and visible, acceptance possible (conform BAM)
Multiple dimming options
Three slots available for additional I/O and functionality
Memory card slot, logger functionality (MESCAQ requirement)
RJ45 LAN connection, NMEA over Ethernet conform IEC 61162-450
Suitable for 144×144 instrument replacement (portrait or landscape)
DNV-GL Type approval certificate: TAA00001B5
CCS Type approval certificate: LT18T00001