CIRAS-3 Portable Photosynthesis System Training
PP Systems offers training courses on the CIRAS-3 Portable Photosynthesis System several times throughout the year. Please contact us directly to schedule.
The course is designed for the first time CIRAS-3 user as well as those that need a refresher course on the operation and general maintenance of the CIRAS-3 system.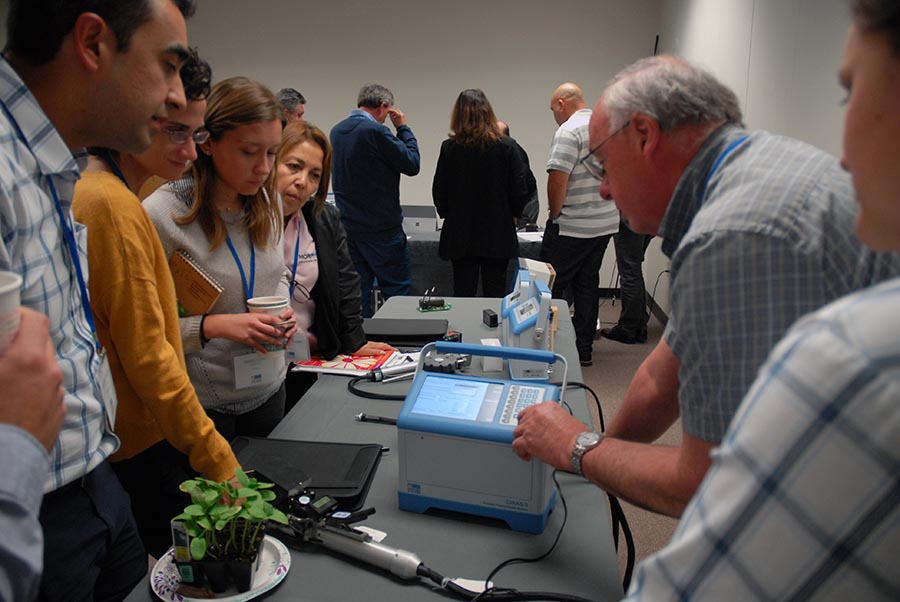 CIRAS-3 Training Course
Day 1
Overview of Gas Exchange – Technology and Applications
IRGA technology – basis of leaf-level detection of gas exchange
Principles of measurement and open-system design
Range and general limitations of applications
Introduction to the CIRAS-3 Portable Photosynthesis System
System hardware overview
Software – Menu structure and overview
Setting up the user and operating environment
Getting familiar with measurement display and controls
Performing Leaf Gas Exchange Measurements
Initial system checks – electrical/gas connections, chemicals
Recording options (Manual and Timed measurements, Response Curves)
Designing and running automated Response Curves
Data Management
Downloading options – description of formats and data structure
Recalculation of data – CIRAS-3 software and spreadsheet options
Post-processing, data quality control and data interpretation
Day 2 (Optional)
Participants are invited to stay for a second day of training to include:
Simultaneous measurement of chlorophyll fluorescence and gas exchange
Closed system applications – soil respiration and whole canopy assimilation with CIRAS-3
General CIRAS-3 system maintenance
System troubleshooting tips
More hands-on time with CIRAS-3
Requirements
All participants must bring their own system with them in good working condition. If you would like to have your system serviced in advance of the training course, please contact PP Systems as far in advance as possible (30-45 days minimum) to ensure that your equipment is good to go prior to the training course. If you prefer to ship your system to us in advance, please contact PP Systems for instructions.
Cost
The CIRAS-3 training course is FREE OF CHARGE! Lunch and local transportation between the hotel and our office is included. All participants are responsible for their own expenses related to travel, meals and lodging. PP Systems can recommend a local hotel that is conveniently located near our office if required.
If you are interested in this training course, please contact PP Systems as soon as possible as class sizes are limited and usually fill up fast.
Here's what some customers had to say about the training course…
"The training I received was extremely well done. Lots of good practical information and hands-on learning led to my understanding the system well enough to teach others how to use it!" – Sue Dove (University of Georgia)
"The training provided by PP Systems was exceptional. The training covered aspects ranging from beginner user setup to advanced techniques of chlorophyll fluorescence. The step-by-step instruction made disseminating the knowledge gained with my other lab members quite easy." – Lauren Pile (Clemson University)