TARGAS-1 Portable Photosynthesis System
CO2 & H2O Gas Analysis
The TARGAS-1 console is compact, lightweight (2.1 kg) and is packaged in a rugged, aluminum enclosure with a shock-absorbing polyurethane base making it extremely robust and reliable under harsh environmental conditions. It incorporates two non-dispersive infrared gas analyzers for CO2 and H2O ensuring accurate measurement and control of both CO2 and H2O. An internal air supply unit provides accurately controlled reference air to the leaf cuvette, and another pump draws the sample (analysis) air to the gas analyzer. Both pumps are user-controlled and accuracy is ensured by two internal electronic flow sensors.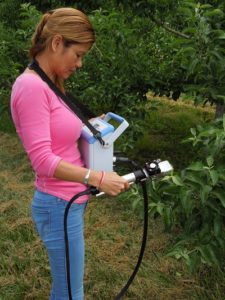 The TARGAS-1 is perfectly suited for applications that demand portability and a high degree of accuracy and control with minimal maintenance. The design of the instrument ensures inherent calibration stability that has been confirmed by many years of experience in gas analysis technology. The TARGAS-1 gas analyzers should not require frequent recalibration, although we do recommend periodic checks to confirm system integrity. Both the CO2 and H2O gas analyzers employ a non-dispersive, infrared measurement technique, coupled with microprocessor-based signal processing, to achieve excellent stability and specificity to CO2 and H2O. Our innovative "Auto-Zero" technology ensures fast warm-up, long-term stability, accuracy, and analyzer calibration. It also minimizes the effects on span gas sensitivity, sample cell contamination, IR source aging, changes in detector sensitivity, and electronics.
All electrical and gas connections, USB interface, power, and desiccants are conveniently located on the console rear panel.
Partial list of U.S. Customers relying on the TARGAS-1:
North Dakota State University
University of Central Florida
University of Tennessee
Lightweight console (2.1 kg) and leaf cuvette (0.7 kg)
High precision, compact, non-dispersive infrared gas analyzers for both CO2 and H2O
Automatic temperature and pressure compensation
Control of CO2 and H2O
Control of light (light unit optional)
Powerful, internal rechargeable battery providing up to 10 hours continuous use
Large touch display with excellent sunlight readability and optimized viewing angle
Numerical and graphical presentation of data
Built-in air supply unit and sampling pump with electronic flow sensors
Wide range of accessories and sensors available
 "I very much like the easy-to-use interface and auto-zero function that together allows for quick training of students. Undergraduates with zero experience can learn to take gas exchange measurements within a single class meeting, including taking full steady-state photosynthetic light response curves and A/Ci curves. The ease of use of the TARGAS-1 strongly facilitates student research projects, allowing students to take the lead investigating photosynthesis, respiration, and transpiration after just a few times using the system. Students can confidently manipulate carbon dioxide, humidity, temperature, and light levels to interrogate plant responses, and the ease of portability allows the TARGAS-1 to move seamlessly from classroom to greenhouse, to field settings."
– Chase Mason
Mason Lab
University of Central Florida
Powerful Battery Technology
The TARGAS-1 is supplied with a very efficient, powerful and rechargeable Li-ion battery capable of providing operation in the field for up to 10 hours. The instrument can also be used with an AC power supply (included) for continuous operation from the mains in the laboratory.
Data Storage
Data storage is virtually unlimited. Data is stored on a USB flash drive (memory stick) for safe storage and easy transfer of data to your PC.
Touch Display
An Innovative, large, touch display (EPD) features simple and intuitive system navigation and it offers excellent viewing under high sunlight.
Measured Data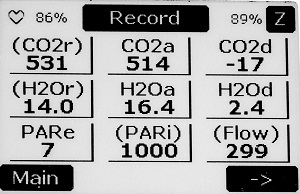 Calculated Data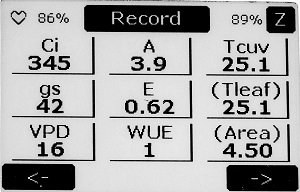 Graphic Data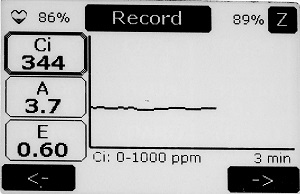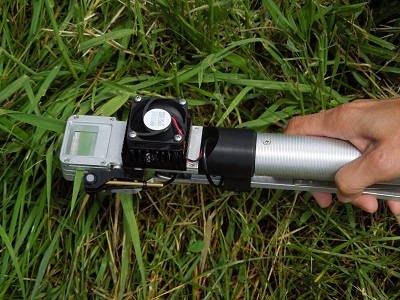 PLC5 Leaf Cuvette
The PLC Leaf Cuvette is extremely versatile and light weight (0.7 kg) making it ideal for measurement on a wide variety of vegetation including broad leaves, narrow leaves, grasses and small needle conifers. It includes sensors for measurement of air temperature and PAR. All leaf cuvette materials are carefully selected to minimize influences such as infrared radiation, water sorption, CO2 effects and leaks. The leaf gaskets provide an air-tight seal without causing damage to vegetation.
An optional, low power LED-based light unit is available for light control if required. It is a useful option for light response curves and to simply have on those cloudy days. The unit clips onto the head of the PLC5 Leaf Cuvette and it can easily be removed for measurement under ambient conditions.
Type: LED (white)
Measurement Range: 0-2500 μmol m-25-1
 Optional Chambers & Sensors for TARGAS-1