Plant Moisture
Skye have been manufacturing plant moisture systems since 1987. These instruments are used to study the demand for water in plants by measuring the plant water potential of stress. The plant moisture potential is measured using a Scholander type pressure chamber and Skye offer two basic types – analog or digital – with choices of pressure range within each type.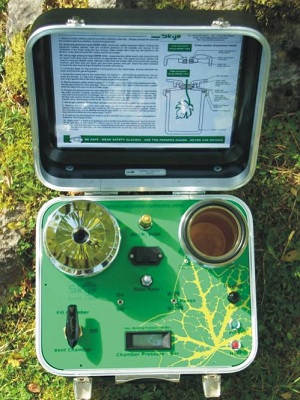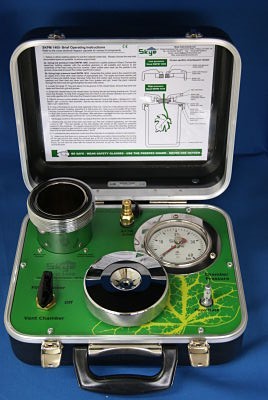 Measures plant moisture potential directly using either the digital or low cost analog plant moisture systems from Skye Instruments.
Common features include a high quality design with user safety having the highest priority. The large sample chamber is machined from a single solid piece of high grade brass. The chamber heads have a unique multi-start thread giving easy tightening.  The water potential pressure of the plant sample is read off the digital display when moisture is first seen coming from the freshly cut stem.  For ease of use the HOLD feature allows the display to be frozen at the measurement point, enabling the user to concentrate on the specimen and not on the display.  The system is highly portable. It can be used with small scuba diving gas bottles in the field, or with standard large gas cylinders in the laboratory.  This design also ensures that the chamber can never be pressurized unless the head is secure.  Each system is individually tested and certified by an independent test house, to twice its working pressure.  A clear perspex shield and safety eye spectacles are provided with each system.
Measures plant moisture potential directly
Analog or digital pressure readout – large clear figures with 'hold' control
Large chamber to accommodate various structures
Choice of chamber heads suitable for fleshy or woody samples
Can also be used for sap extraction
Models available for 40, 50 and 80 bar maximum working pressure
Available with accessories for use with nitrogen/air lines or regulators to suit 'scuba' diving air bottles