3 Axis Ultrasonics
Gill has more than twenty years experience in the field of ultrasonic air flow measurement and offers the most extensive range of ultrasonic wind speed and direction sensors on the market today. Rugged construction and the elimination of moving parts removes the need for routine maintenance, making our sensors ideal for operation in all environmental conditions.
For sales and support on all Gill ultrasonics and to determine which instrument best suits your application, please get in contact with PP Systems to speak to a products specialist.  We look forward to being of assistance.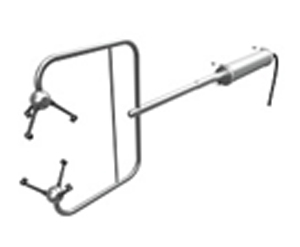 The Gill WindMaster™ HS provides all of the advantages of the scientific grade HS measurement head design with the ease and feature set from the Gill WindMaster range. The horizontal head design allows for highly accurate vertical flow analysis with minimal interruption from the anemometer geometry.
Precision 3-axis research anemometer
Horizontal head for minimal flow disturbance
Integral electronics
0-45 m/s wind speed
U, V, W vector outputs
Stainless steel construction
Sonic temperature output
32 Hz output rate
Precision 3-axis research anemometer
20 Hz output rate (32 Hz optional)
0-45 m/s wind speed
0-359o wind direction
U, V, W vector outputs
Sonic temperature output
Aluminum/carbon fiber construction
Optional custom calibration
Precision 3-axis research anemometer
32 Hz output rate
0-65 m/s wind speed
0-359o wind direction
U, V, W vector outputs
Sonic temperature output
Stainless steel construction
Optional custom calibration
3-axis research anemometer
50 Hz output rate
0-45 m/s wind speed
0-359o wind direction
U, V, W vector outputs
Sonic temperature output
Aluminum/carbon fiber construction
3-axis research anemometer
100 Hz output rate
0-45 m/s wind speed
0-359o wind direction
U, V, W vector outputs
Sonic temperature output
Aluminum/carbon fiber construction
Precision 3-axis research anemometer
50 Hz output rate
0-45 m/s wind speed
0-359o wind direction
U, V, W vector outputs
Horizontal head for minimal flow disturbance
Stainless steel construction
Precision 3-axis research anemometer
100 Hz output rate
0-45 m/s wind speed
0-359o wind direction
U, V, W vector outputs
Horizontal head for minimal flow disturbance
Stainless steel construction